The 2018 Subaru Love Promise Community Commitment Award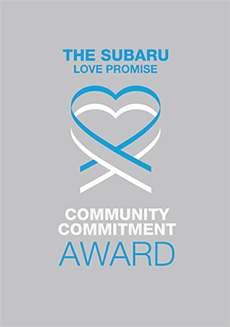 We've been nationally recognized for our dedication to our community and the Subaru Love Promise.
We're honored to receive the 2018 Subaru Love Promise Community Commitment Award. This award nationally recognizes Subaru retailers who are making the world a better place while demonstrating an outstanding commitment to supporting passions and causes in local communities. These efforts are focused in important areas such as the environment, community, health, education, and pets.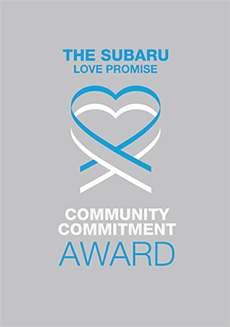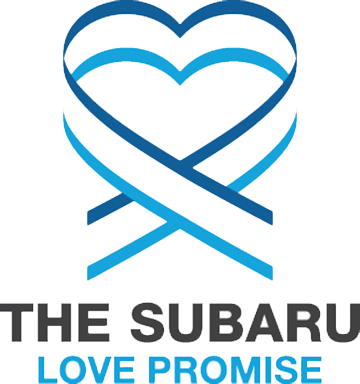 What is the Subaru Love Promise?
Subaru and our retailers believe in making the world a better place and the Subaru Love Promise is our vision of respecting all people. This is our commitment to show love and respect to our customers and to work to make a positive impact in the world.
How is Stateline Subaru dedicated locally to the Love Promise?
Our Love Promise can be seen in various partnerships with local charities and non-profits. We're grateful for the opportunity, not only to be a part of our community, but to serve it as well.
Love Promise Stories from Stateline Subaru
Subaru and Stateline Subaru believe in making a positive impact on the communities in which we live and work. We uphold that belief through our Love Promise Community Commitment. Every month, we select inspiring stories from customers and partners from around our area who strive to support our collective commitment and feature them here
Forever Paws - Melany F
We are proud of the relationship Stateline Subaru has made with such an amazing organization as Forever Paws. Gail Furtado and Beverly Andrade are true wonders; their selfless work with these animals does not go unnoticed and we are thankful for such genuine people in such tough times. One thing to remain constant is the love and generosity this foundation shows to their animals that we continue to admire and appreciate therefore strengthening our relationship with each event.
---
COMMUNITY AUTISM RESOURCES - Crystal M
Community Autism Resources had the privilege of being named by Stateline Subaru as their choice for the Hometown Charity, as part of the Subaru Share the Love campaign. As a result of the generosity of Subaru and their customers, we received $43552.64! We were overwhelmed by the announcement of the amount raised and the true spirit of giving that was evident by such an amount. The timing of this donation was incredibly fortunate for us as the Covid pandemic affected so many families of the individuals with Autism Spectrum Disorder (ASD) in our area. We at Community Autism Resources have continued to provide services throughout this pandemic and were able to support families because of the efforts of Subaru through this donation. Families struggling with all aspects of this pandemic, were in need of assistance and were able to receive support. Funds have been used in a variety of ways: Putting food on their tables; paying bills and the rent; purchasing necessary things for their homes; making mortgage payments; purchasing medical supplies; etc. A child with ASD had a parent who passed away. The child's depression had worsened, and his parent was able to get the medication and resources needed to help her child. Some families were able to purchase clothing. A parent was able to use funds towards transportation to and from appointments. A number of families had one or both parents laid off from their jobs and these funds were a lifeline in helping them stay afloat during this pandemic. Another parent used their funds for childcare. Her daughter needed 24 hour care. She is nonverbal and is unable to eat solid foods. Her mom describes her daughter as "the most beautiful girl in the whole world". This parent had to work since her job was in a medical facility. She needed someone that has worked with a severely autistic little girl. This mom couldn't afford to pay someone extra money for the care. Her daughters father passed away the previous month. So, it was important that she found the right care for her. In every situation, families of children with autism and adults with autism expressed gratitude. Many responding, "This is so helpful.." "so very appreciated.." "Thank you so much" Thank you so much for your help, may god bless and protect anyone thinking of the Community. That's what subaru and their customers did for us- they helped us help people in their community. And from those of us at Community Autism Resources, we can never fully express the depth of our gratitude to Stateline Subaru for the incredible donation we received at just the right time!
---
Southcoast Centers for Cancer Care - Sarah G
The diagnosis of cancer can be devastating for a patient and their family and loved ones. It's with that in mind that Southcoast Health offers the specialty of the Southcoast Health Cancer Centers. At Southcoast, our team of experienced health care professionals brings a higher level of technology, treatment and expertise to the South Coast region. Southcoast's Cancer Center team was extremely honored when they found out that they had been chosen as Stateline Subaru's choice for their 2020 Hometown charity. "The donations we receive from Stateline Subaru will be going towards wellness activities for our patients. We are very excited to be part of this," said Kathy Moraes, RN, Clinical Director for the Southcoast Cancer Centers. It's Southcoast's promise that no matter where you live in southeastern Massachusetts or Rhode Island, you will have access to expert, compassionate and comprehensive cancer care. One of the many ways the Southcoast Cancer Centers supports patients and their families is by providing events and opportunities for engagement with others going through similar circumstances. An example is Southcoast's participation in the annual Shine a Light on Lung Cancer, a special international event that provides inspiration and support for those impacted by lung cancer including survivors, patients, loved ones and healthcare professionals. Please click on the link provided to view Southcoast's 2020 Shine a Light on Lung Cancer event which took place virtually.
---
Six Subarus and Counting - Gail F
As stated in the title of my story I am on my sixth Subaru Legacy. My last one I purchased a 2019 from Stateline Subaru. I obviously knew what I wanted and told the salesperson what exactly it was to get me to purchase a new car. He told me had two that met my specifications and offered to let me drive them. I told him it would not be necessary I knew what I would be driving. He was a bit taken back and asked if I wanted to take a ride with him. Again, I said no thank you let's talk cost. I must admit I was treated extremely fair for my trade in. I had no difficulties with paperwork, and everyone was professional, explaining all information in detail. It was so easy working with everyone. I have continued to service my car there as well. Of course with COVID it has been different but the service people have done their utmost to service the customers in a safe environment. I appreciate that as well as their courteous manner in which they treat me as a customer. Needless to say I will be purchasing my next Legacy there and highly recommend Stateline Subaru to anyone who asks. I have already convinced several friends and family members to become part of the Stateline Subaru family and they too are very pleased.
---
Forever Paws - Gail F
I knew about the Share the Love program because I was the proud owner of five Subaru cars. When I was informed as the President of Forever Paws Animal Shelter in Fall River, Massachusetts that Stateline Subaru of Somerset, Massachusetts had selected the shelter as their first local charity I was beyond excited. I was so thrilled, I called everyone affiliated with the shelter to share the fantastic news. I was even able to convince two people to purchase new Subaru cars from Stateline. Working with the sales staff for an adoption event was so much fun and they even did a collection for the animals at the showroom. They truly are animal supporters and care about helping the homeless animals.When I was told I could bring anyone I wanted to for the photo op to Stateline I did just that. I brought the two volunteers that bought their cars and fellow board members. When I was shown the fake check for $34,018.00 I was speechless!I could not believe what I was seeing! We are a nonprofit organization and that was the biggest check we had ever received. Immediately our treasurer shouted we can now get the generator we need for the building. We still have that check! One of our employees decided to purchase her new car there and has been very pleased with the service she received. I even decided that I needed to trade in my 2017 Legacy for a 2019. Now I can say I too have bought my Subaru from Stateline. I am so impressed with the management of Al Vieira, his sales staff, and thus far the maintenance department as well. I look to the future of working with Stateline Subaru.
---